My dad modelled the Diamond Vest for me yesterday and it fits! I'm fairly satisfied with out it turned out. My only beef is the fake grafting at the shoulders look rather crappy. But I couldn't figure out how to make it look good... pull too tight and the two pieces fold in on each other... don't pull tight enough and the two pieces look like their going to fall apart. I also don't like how to arm and neck bands turned out. I think I picked up too few stitches and ended up with bands that were too tight in proportion to the rest of the vest. See when he's wearing it the arm bands curl down a little too much? But he seems to like it, so I'm not going to bother re-doing them...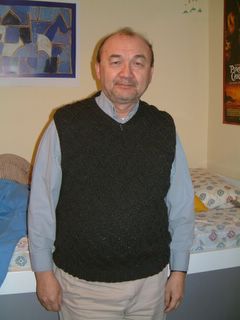 I also gave my mom the Vari Shawl. I had been meaning to give it to her since I was knitting it, but never had a good opportunity. And since February 4th was their anniversary, I figured this was a good time to give them both knitted gifts.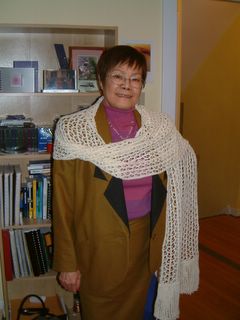 And remember how I was project less for a couple of hours? I quickly rectifed that problem. I've started on the Shaker Rib hat on Chicknits using some of the Patons Canadiana that I ordered for the HP Scarf a while ago. It was the wrong colour and I decided to keep it rather than return it. It matches my mohair scarf perfectly.



This sorta makes me wish that cold weather would come back again. I'd like to be able to wear it at least once this winter. But at this rate it'll be spring in no time! That's not such a bad thing, I guess.